Dog Training - Level 1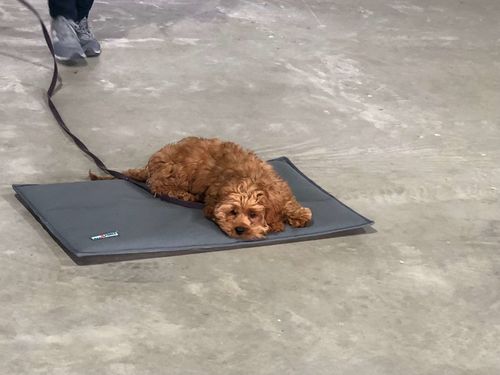 DOG TRAINING - LEVEL 1 (4mths and older dogs)
These classes are designed to further develop your puppy's social skills as well as owners learning sound knowledge to help them better understand what their puppy's are now capable of achieving. The classes will help those whose puppy has just completed puppy classes or, for those puppies/young dogs that perhaps didn't get the chance to attend a puppy class.
Exercises focusing on calming your puppy/young dog down; learning impulse control, teaching them to become more patient and be able to wait for certain things and helping owners teach their dogs to walk nicely on loose lead are all covered in these classes and more.
Attending this class will be of great benefit to you and your dog's relationship because you will be learning ways to gain a nice structure within the household, enjoying the various ways that you can train whilst having fun and being valuable to your dog and, ultimately, know how to raise a puppy/young dog into a lovely well mannered, happy and balanced member of the family, which I believe is everyones' dream.
What is covered in Level 1 classes :-

Understanding leadership - how dogs think and how to get them being attentive to you

Engagement with your dog;

Basic obedience - How to get a 'stay' and train recall

Impulse control exercises

Stationing on mat

Loose lead walking;

Lead handling skills and more !
Dog Training - Level 1 are held weekly over 5 weeks of 1 hour duration.
(The initial week is held over 1.5hrs - no dogs attend) Weeks 2, 3, 4 & 5 (dogs attend)
Where: 1460 Princes Highway, Mount Moriac

Duration: 5 weeks
When: Saturday & Sundays. (Check FB page)
Cost: $230
For all enquires or to make a booking please phone Sonia on 0438 730 428 or email me on sonia@all4paws.com.au
(minimum of 3 dogs required to run a class).