Puppy Classes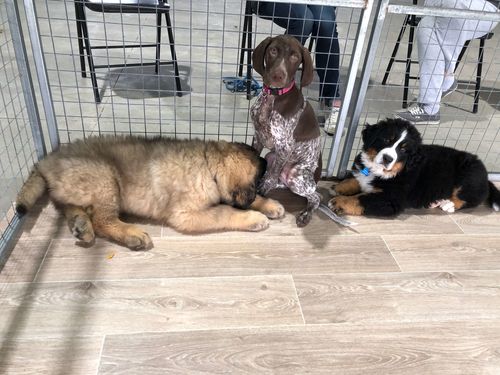 PUPPY CLASSES - 8 - 16 weeks

Socialisation for your new puppy is extremely important between the ages of 8 - 16 weeks. This is the optimum period during which puppies learn to interact with the world around them, how to play with other puppies appropriately and with manners and more. Puppies are so cute and sometimes we allow them to manipulate us. But like all good responsible parents we need to set the necessary rules, boundaries and expectations in order to teach them what we expect of their behaviour so as to raise a well mannered, content and happy balanced dog.
The sooner you start teaching your new puppy 'right' from 'wrong' the easier it will be to welcome them into the your family or 'pack'.
This is where attending a puppy class can help. Puppy classes are a fabulous way to safely socialise your puppy whilst the owners learn all about how their puppy thinks and how best to bring out good desirable traits and behaviours and diminish those unwanted and annoying behaviours. Don't be fooled about the word 'puppy' school, as the classes are as much about the owners as it is the puppies. If owners can be helped and guided with tips, techniques and sound information then hopefully their puppy will grow up to be a happy well rounded dog.
Puppy classes should be more than just learning basic obedience commands. In order to raise a nice dog we need to help shape our puppies' behaviours and a lovely way to do this is via engagement work. We also want to focus on safely socialising your puppy so as it can learn how to interact with other puppies, people and experience different and new things. This way your puppy is being taught how to survive and adapt to everyday life without feeling stressed or overwhelmed. All of this and more is covered in my puppy classes.
Puppy classes covers :-
- Toilet training;
- Engagement work;
- Crate training;
- Puppy play/socialisation (in enclosed safe environment);
- Shaping basic commands, sit and drop and come;
- Good games to play with puppy;
- How to implement nice structure with your puppy;
- How to handle your dog to groom and examine;
- Explanation about your puppy's body language and behaviours; and more


Where: 1460 Princes Highway, Mount Moriac
Duration: 5 weeks
When: Sunday 1.00 pm (Week 1 - 2hrs, Weeks 2,3 4 & 5 - 1hr)
Cost: $160
For all enquires or to make a booking please phone Sonia on 0438 730 428 or email me on sonia@all4paws.com.au